Vitro Dining Booths
Find the best seating solution for your needs by shopping KaTom Restaurant Supply's Vitro dining booths. Vitro dining booths come in a plethora of styles and eye catching colors so finding seating that will match your existing decor is simple! No matter if you're looking for retro style Vitro restaurant booths or more modern designs, KaTom has you covered. Order the Vitro restaurant booths you need with KaTom!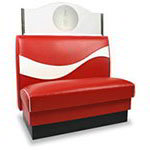 Bring the fun feeling of the 1950's to your restaurant with Vitro 50's style dining booths from KaTom Restaurant Supply! KaTom sells Vitro 50's style dining booths in several styles including Coca Cola themed models. Because KaTom Supply passes on savings to you, the prices on Vitro retro restaurant booths are competitively low. Feel free to browse KaTom's fine selection of Vitro retro restaurant booths today to find the perfect seating for your needs!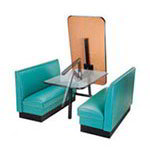 This year make sure you have easy access to clean the booths in your restaurant! Invest in Vitro Flip Top restaurant booth accessories! These accessories will allow you easy access to the normally difficult to clean booths that occupy your restaurant! An asset to an restaurant owner ,Vitro Flip Top restaurant booth accessories are a perfect addition to your restaurant! Find Vitro Flip Top commercial accessories at KaTom Restaurant Supply!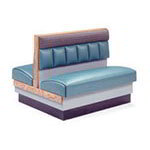 Give your restaurant's guests comfortable seating with Vitro Contemporary dining booths from KaTom. KaTom Restaurant Supply sells Vitro Contemporary dining booths in a variety of colors and designs to best match your existing decor. These Vitro Contemporary restaurant booths are priced with your budget in mind so you don't have to worry about breaking the budget. Choose the best Vitro Contemporary restaurant booths for your needs today!