True Reach-Ins
True reach in refrigerators are undeniably some of the best in the industry. You can be sure True reach in refrigerators feature stronger, longer lasting motors than the competition! Since great care is taken during the manufacturing of True commercial reach in refrigerators you can be sure they are very durable. Each True commercial reach in refrigerator is tested at the True factory before it is sent out, guaranteeing a great refrigerator!
What features solid doors, premium construction, self closing doors, and more? True T Series reach in refrigerators, of course! True T Series reach in refrigerators from KaTom are long lasting due to a durable stainless exterior and well made motor. Many of KaTom's True T Series commercial reach in refrigerators feature only the highest quality of materials and attractive solid doors that help to keep your foods colder. Choose the True T Series commercial reach in refrigerator you need today!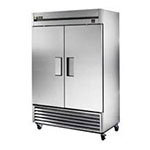 Is your restaurant's old refrigeration on the fritz? Replace your undependable refrigeration with a True TS series refrigerator from KaTom. KaTom's selection of True TS series refrigeration features attractive and stainless exteriors for extra durability. KaTom carries True TS series refrigerators with glass doors as well as solid doors. No matter the True TS series refrigeration you choose you can bet it will come at a low KaTom price. Order today!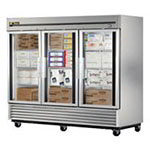 Do you need a new freezer for your restaurant or convenient store? Choose a True half solid door freezer that will last! Since True half solid door freezers are constructed with only the finest materials you can be sure they're durable enough for hectic commercial use. KaTom also carries competitively priced True full glass door freezers that are sure last due to their superior motor. Find the affordable True full glass door freezer your establishment needs with KaTom.