Toasters
A toaster is a great piece of equipment to have in every professional or residential chef's kitchen. The toasting equipment has come a long way from simply holding bread over a fire. Today, toasting equipment provides fast, efficient results with every use. Toasters range from small to large and can be used on a variety of bread products. Toasters are a wonderful tool in the restaurant setting. Increase your output and reduce your prep work with a new toaster today!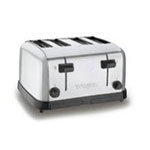 A commercial toaster is heavy duty and specifically designed to toast your food perfectly each time, making your restaurant the only choice for bagels, sandwiches, and more. Provide your customers with even more breakfast and lunch options with a new commercial toaster. Whether you want a traditional pop-up toaster or a new state of the art, high efficiency commercial conveyor toaster, we have it all. Find the commercial toaster that suits your establishment today at KaTom Restaurant Supply.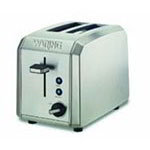 Every home needs a handy residential toaster. Quickly toast your favorite breads, bagels, and English muffins to a perfect golden brown with a residential toaster. With a new residential toaster you can toast 2 to 4 slices at a time, so you can save time and energy in the kitchen. Residential toasters provide fast, efficient results each and every time. Find the right residential toaster for your home at KaTom Restaurant Supply.