GET Supermel Series
The last thing a restaurant wants during the lunch rush is to accidentally drop a piece of servingware and have it shatter. With GET Supermel Series, this will not happen. These melamine servingware and dishes are extremely durable and break-resistant, and with the variety in styles and products, they also are appealing to your customers.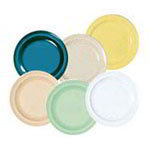 People often say that variety is the spice of life and with GET Supermel that is what you will get. With a wide variety of colors to choose from, high-grade durability, and an NSF listing, these melamine servingware and dishes are more than capable of standing up to the toughest use. GET Supermel offers both plates and bowls, so all of your needs are only a click away! KaTom Restaurant Supply carries all of your melamine servingware and melamine dishes' needs. Don't hesitate, order today.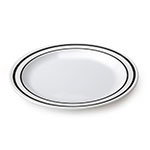 When customers think of your restaurant, you want them to have a positive memory so they will tell others and will come back themselves. With GET Supermel II, positive feedback can become a common occurrence! These GET melamine servingware are durable, dishwasher safe and a polished white with a double black border. These melamine dishes offer strength and beauty in one package. With KaTom Restaurant Supply, you can purchase these melamine servingware for your restaurant. Order yours now.