Stock Pot & Cover
Stock pots are generally used when a larger amount of food, like stew, soup or pasta, is needed. At KaTom Restaurant Supply we have stock pots in aluminum and stainless steel as well as covers, steamers and baskets. Make sure your kitchen has a good supply of stock pots so that you will never find yourself in a pickle by not having enough of them!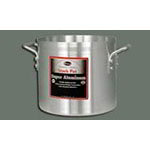 Aluminum stock pots are a basic necessity in the kitchen if you create soups, stews or very many pasta dishes. The ability to cook a large amount of soup or stew in one stock pot helps the flavors condense as it cooks. Aluminum stock pots are generally flat bottomed with straight, tall sides and are usually used on the stove top.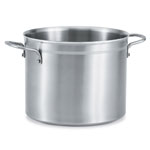 Rest assured that the same quality you enjoy in our other stainless steel products are also found in our stainless steel stock pots. KaTom Restaurant Supply has a large selection of stainless steel stock pots in varying sizes, finishes and styles. We will gladly assist you in finding the perfect stock pot to suit your needs.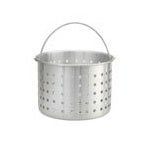 Steamers & baskets can be used for so many different things. At KaTom Restaurant Supply we have many sizes of vegetable and/or rice steamers, steamer baskets and more. Our steamers & baskets come in stainless steel and aluminum and range in sizes from 3 quarts to 80 quarts. Restaurants, large and small, will find steamers & baskets to suit their varying needs.