Stock Pots & Covers
Used for cooking or boiling large amounts of food such as stews, soups, vegetables, seafood and pasta, a stock pot and cover is a common item of cookware in many kitchens. The tall design allows liquids to bubble up through the cooking food, adding flavor. Often steaming baskets are used to cook food with steam from boiling water such as vegetables or shrimp boils. Made of aluminum or stainless steel, many come with lids or steaming baskets. Available in a large variety of sizes from 4 to 160 quarts, KaTom has the equipment to fit the needs of your busy commercial or residential kitchen.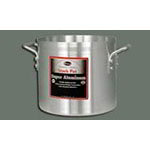 Economical and durable, aluminum stock pots offer faster heat transfer than stainless steel and can be used for a variety of purposes including cooking soups or stews, steaming vegetables and seafood or even home brewing of beer. Some may have bottom pour spouts for draining water, thin soups, broths or other liquids making them useful for buffets, catering or cafeterias. Available in sizes up to 160 quarts, they may also include lids and steamer baskets. Standard and heavy-duty varieties are available to stand up to the toughest kitchen tasks.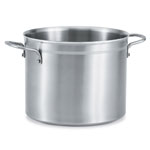 Known for durability, easy cleaning and superior heat distribution, stainless steel stock pots are a common item of cookware in residential and commercial kitchens of all sizes. Great for cooking a wide variety of foods from soups, stews and chili to boiling vegetables and pasta to making shrimp boils, this material is also non-reactive to acidic foods, making it perfect for cooking tomato based sauces, soups and stews. These containers come in a wide variety of sizes and brands to fit the needs of small or large establishments.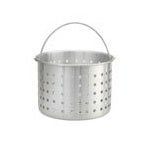 Boil potatoes, cook broccoli, make the perfect pasta or cook up a delicious shrimp boil with a steamer basket from KaTom. Made of durable stainless steel or economical and lightweight aluminum, this cookware allows you to steam a large amount of food at once. With capacities from 3 to 120 quarts available, these containers can fit a wide variety of pots to transform your typical stock pot into a multifunction piece of equipment that you can use for boiling, frying, steaming, cooking pasta or rice along with many other cooking tasks.