Steamer
What can you use to perfectly steam vegetables, melt cheeses, and make your breads delectably soft? One of KaTom Restaurant Supply's commercial steamers! We have both countertop commercial steamers as well as floor models so choosing the right style for your busy catering business or restaurant should be no problem! Browse through our affordable and durable commercial steamers today and experience our fantastic pricing!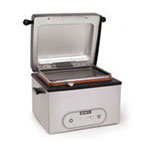 A steamer can be used to prepare so many dishes it would be a shame to own a restaurant or catering business without one! KaTom Restaurant Supply carries a large selection of space saving commercial countertop steamers that steam everything from vegetables to fish! By using a commercial countertop steamer in your fast food restaurant you can ensure your burger buns or breads are delectably soft every time! Give your guests the best with a commercial countertop steamer in your business!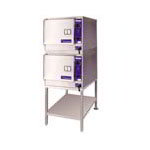 By using a fine quality commercial floor model steamer in your catering business you can expand your menu and more efficiently cook foods! Our commercial floor model steamers feature heavy duty steaming applications and internal blowers for faster cooking times. No matter if you need a commercial floor model steamer for softening large amounts of bread or making a bulk order of delicious steamed mussels you're sure to find the right model at KaTom!