Steamer
While being best known in America for producing vibrant and delicious seafood and vegetables, nearly anything can be cooked in a steamer. For example, steaks cooked in a steamer remain tender, have less shrinkage from moisture loss, and cook more quickly. Give the cut a sear on a charbroiler or flat top and it's ready for serving. Steam is also great for keeping chicken and turkey moist and delicious, for providing a perfect brown crust on bread, and for quickly cooking vegetables, then holding them at temperature until serving without burning.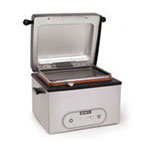 Great for delis, restaurants, sandwich and coffee shops or other establishments with limited space, countertop steamers offer many of the features of larger models and can be used to prepare a wide variety of delicious dishes. Small steamers can be used to heat sandwiches or rejuvenate foods by adding moisture. Larger units with capacities up to six pans and precision temperature and humidity controls can be used to cook larger food portions. Whether you're making hot sandwiches or preparing side dishes and full meals KaTom has an electric or gas steamer to fit your needs.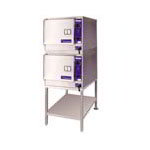 Great for high volume cooking establishments like cafeterias, hospitals, banquet halls and large restaurants, a gas or electric floor model steamer can be used to prepare large amounts of meats, vegetables or seafood with flavorful and juicy results every time. Constructed of durable materials such as stainless steel, these units are meant to be long lasting and withstand heavy use. Convection, direct pressure, pressureless, direct steam, cabinet bases, multiple compartment configurations and more to fit your specific cooking needs can be found at KaTom.com.