Star Sandwich Grills
Our selection of Star sandwich grills can help you to make more profit by adding trendy food items such as Panini's to your menu! Does your café need a large specialty grill with a grooved surface? No problem, we have them! KaTom carries Star sandwich grills for smaller capacities as well as heavy duty operations. Enjoy the durability our Star sandwich grills offer. Order a model for your food establishment today from KaTom Restaurant Supply!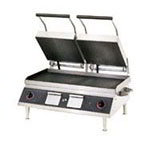 From grilled cheese to toasty Rueben sandwiches, KaTom's collection of Star double sided sandwich grill can handle them all! The Pro Max line of Star double sided sandwich grills are sold more than any other sandwich grill on the market due to long lasting design! Star two sided sandwich grills come in several widths, a variety of cooking surface choices, and quick recovery times so you're needs are sure to be met. Purchase a Star two sided sandwich grill today with KaTom!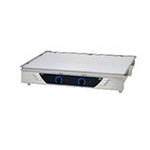 Toast your tortillas to perfection with a Star tortilla grill from KaTom! Our selection of Star tortilla grills come with adjustable thermostats to ensure temperature control. With a small and large size you are sure to find the Star tortilla grill for your restaurant or taco stand. If you're always on the go you'll love our Star portable grills! These grills save space and flexibly cook a variety of different menu items. Order a Star portable grill today for your food establishment!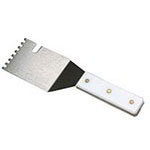 Cooking trendy, delicious Panini sandwiches just got easier with Star Panini sandwich grill accessories from KaTom. KaTom Restaurant Supply sells Star Panini sandwich grill accessories like special spatulas for retrieving the cooking sandwiches. You'll be happy to see that these Star sandwich griddle accessories are priced with your budget in mind. Place an order for the Star sandwich griddle accessories your restaurant needs from KaTom Supply!