Star Popcorn Equipment
Make loads of profit at your movie theater or concession stand with KaTom's selection of Star popcorn equipment! From poppers to popcorn kernels KaTom has your popcorn needs covered. We carry Star popcorn equipment for heavy duty and medium volume operations that feature eye grabbing graphics and durable construction. Order from KaTom Restaurant Supply today and taste the difference that Star popcorn equipment makes in your concession stand!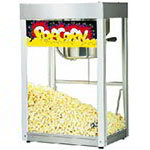 Isn't popcorn delicious? Star popcorn poppers keep the dream alive by creating the delectable, fresh popcorn many customers crave. Do you own a stadium concession stand or need a new popper for your movie theatre? One of our large capacity Star popcorn poppers featuring bright graphics and durable construction would be a perfect fit! Find the Star popcorn popper that is right for your business, small or large, with KaTom Restaurant Supply!
Star Chief's Choice popcorn really is the popcorn of CHOICE for your movie theater or stadium concession stand. Each pack of popcorn is perfectly portioned, eliminating many of the unpopped, leftover kernels that you see with other brands. Star Chief's Choice popcorn is made with special hybrid kernels that maximize popcorn expansion. For popcorn made with the very best oils and flavorings choose Star Chief's Choice popcorn from KaTom for your establishment.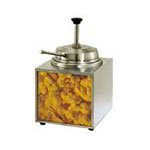 Popcorn without butter is like simulated sky diving. Sure it's nice but you're not getting the full experience. Butter up your guest's popcorn with a Star butter dispenser from KaTom! With aesthetically pleasing lighted graphics, durable stainless steel construction, and an adjustable thermostat for ensuring accurate serving temperatures how could you beat a Star butter dispenser? Order Star butter dispensers for your movie theater or concession stand with KaTom Restaurant Supply!