Star Griddles
Pancakes are best cooked on a griddle…but not just any griddle! KaTom's collection of Star griddles are great for heavy duty to medium duty use and come in several widths to accommodate your businesses size. Our Star griddles feature cooking surfaces in steel as well as chrome which distributes heat even more efficiently. Choose from our gas and electric model Star griddles for you're food establishments cooking needs, you will not regret it!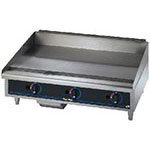 Star Max Griddles are perfect for restaurants or food catering businesses with medium duty needs. Star Max medium duty griddles come with steel plated cooking surfaces as well as superior chrome plated cooking surfaces that evenly distribute heat. No matter the size of your establishment we have the right width Star Max griddle for you! We carry Star Max griddles with manual and thermostatic controls for your preference. Order your Star Max medium duty griddle today!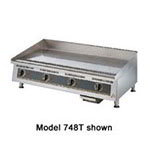 If you're shopping for heavy duty griddles for your restaurant look no further! Star Ultra Max griddles cook evenly, are reliable, and easily of handle heavy duty conditions. Choose from Star heavy duty griddles with steel cooking surfaces or chrome surfaces that offer supreme heat distribution. Our Star Ultra Max griddles come in many widths so finding the right fit for your business is easy. Our helpful customer service will help to find the right Star heavy duty griddle for your needs!