Pass Thru, Roll Thru, & Roll-In Heated Cabinet
Keep foods easily accessible and at the correct temperature with a pass-thru, roll-thru, or roll-in heated cabinet. They are perfect for busy restaurants that need immediate access to hot food. We have half-sized units that are good for small catering operations up to large full-height models that can be found in high-volume restaurants.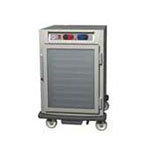 Perfect for bakeries, catering, cafeterias, restaurants and more, a half size specialty heated cabinet will allow you to prepare food in advance and keep it warm and delicious until it is time to serve. These heated cabinets can be stationary or portable and can have a pass-thru through design making it easy to get food from the kitchen to the serving areas. Heated cabinets will keep uncovered dishes and bakery products warm and fresh. Made of durable stainless steel or aluminum these space saving cabinets can come with solid or double paned glass doors and can hold up to 17 baking pans.
Great for bakeries, hospitals, catering services, buffets, banquet halls and more, a portable or stationary full size specialty heated cabinet can keep food delicious and ready to serve for hours. Constructed of durable materials such as stainless steel and offering solid or windowed doors, these cabinets are made for efficiency and long life. Many are available with separate compartments for different dishes and pass-thru designs allow for easy movement of food items between cooking and serving areas. Heated units are great for holding uncovered dishes and bakery products to be kept fresh for hours.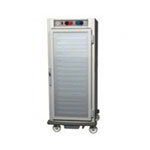 Keep your food warm, fresh and ready to serve with 3/4 height specialty heated cabinet. These portable units are perfect for busy cafeterias, catering services, banquet halls, hospitals or other businesses that need to hold food at a constant temperature for extended periods of time. Constructed of durable stainless steel, these cabinets can hold up to 180 pre-plated meals for hours.