Slicer
A standard commercial slicer does fairly well with deli meats but may suffer in the cheese cutting category and totally flunk out when attempting to slice through frozen foods. Not to worry, KaTom has commercial slicers for any application from standard to heavy duty. Our helpful and knowledgeable customer service staff can assist you in choosing an affordable manual or automatic commercial slicer that will save your business money, time, and energy spend in food preparation.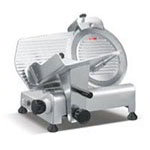 Busy delis call for heavy duty equipment! If a heavy duty slicer is what your business needs then you've come to the right place! KaTom's selection of large 12-14 inch knife slicers come in automatic or manual options for you to choose from. Need a large 12-14 inch knife slicer that is gear driven for durability? KaTom has them! Browse through KaTom's quality selection of large 12-14 inch knife slicers with free shipping or specialty options today!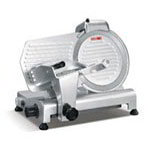 Take a look at our quality selection of 10 inch knife slicers that are perfect for medium duty use in a restaurant or catering business! With several horse power varieties to choose from you're sure to find the 10 inch knife slicer that is the best fit for your establishment. Choose from our manual or automatic 10 inch knife slicers and save with our many affordably priced units with free shipping!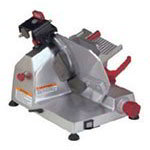 Do you need a quality slicer for light duty applications? Look no further! KaTom Restaurant Supply carries a 9 inch knife slicer that is a fantastic fit for your food establishment. Choose from our many trusted brands and manual or automatic functions. Not only do our quality 9 inch knife slicers come competitively priced but many models come with free shipping, saving your budget even more money! Order today!