Sauce Pan & Cover
Considered by many to be the workhorse of the kitchen, sauce pans are generally used for simmering or boiling and usually have one long handle. The larger sauce pans will usually have two handles close to the sides of the pot and are called sauce pots or soup pots. Sauce pans and sauce pots are usually measured by volume. KaTom Restaurant Supply offers sauce pans and covers in a variety of sizes and metals like aluminum, stainless steel and copper.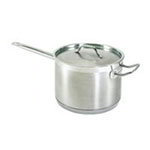 Stainless steel sauce pans can be used for preparing many different dishes. Valued for it's low maintenance properties, stainless steel pans have become the standard in kitchens around the world. KaTom Restaurant Supply offers many different types of stainless steel sauce pans and saucier that are available in a variety of sizes. Let one of our helpful customer service representatives help you place your order today.
Check out the aluminum sauce pan collection at KaTom Restaurant Supply. We have sauce pans in every size and shape that you could possibly need. Many of our aluminum pans come in natural finish and others have a non stick finish. Whatever you may need, let KaTom equip your kitchen!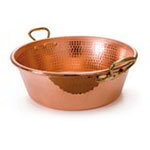 Copper sauce pans have many uses and many times are used unlined by pastry chefs to make sugar syrups. This is because copper is so responsive to the heat and the copper pan gives the chef instant control as the syrup boils to the perfect temperature. At KaTom Restaurant Supply we have a large selection of copper sauce pans that you will find useful in your kitchen. Let us help you expand or add to your inventory of copper pans!