Sauce Pans & Covers
Not just for sauces, sauce pans and covers can be used for a wide variety of cooking tasks including simmering, steaming, boiling and cooking just to name a few. Made from durable stainless steel, lightweight aluminum and stylish copper, these utensils come in a wide variety of shapes and sizes for versatility and functionality. Standard pans have high sides and flat bottoms, great for boiling or simmering, while saucier styles have shorter sides making it easier to stir the cooking food.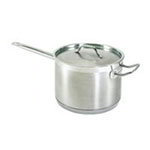 Durable and easy to clean, stainless steel sauce pans are one of the most versatile and common items found in any kitchen. Affordable and corrosion resistant, this cookware can stand up to abuse and can be even run through a dishwasher, although hand washing is recommended. Often constructed with layers of aluminum or copper to create a more even heat across the cooking surface, this cookware comes in a wide variety of shapes, styles and brands. Many of these pans are also compatible with newer induction cooktops and ranges. With capacities from one to more than 60 quarts, we have the cookware that will fit your needs.
Known for their light weight, durability, even heating and resistance to corrosion, aluminum sauce pans are great for cooking, boiling, simmering and other general cooking tasks. Available in many different shapes, sizes and styles, we also offer both natural finish and models with non-stick coating. Acidic or alkaline foods can cause corrosion and produce off tasting dishes with equipment made of this material and it should be hand washed to prevent damage to the cooking surface.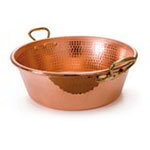 A great material for cooking complex sauces, copper sauce pans are often preferred by top chefs because of its quick and consistent response to heat. Unlined pans are often used by pastry chefs for sugar syrups, but due to its reaction to some types of food, these pots are often lined with another metal such as tin, stainless steel or nickel which also adds durability to the cooking surface. This material also loses its heat quickly which can be an advantage with heat sensitive recipes. This type of cookware should be hand cleaned with warm water and mild detergent and should not be placed in a dishwasher.