Rosle Cookware
Cook something delicious with KaTom's fine assortment of Rosle stainless steel cookware. Rosle stainless steel cookware is manufactured with innovation and ease of use in mind, making it a great choice for any kitchen. KaTom carries a wide variety of Rosle stainless cookware, from soup pot pieces to butter warming cookware. Make KaTom Restaurant Supply your supplier of durable Rosle stainless cookware by making a purchase today!
From tantalizing stews to mouthwatering soups, everything tastes delicious when you cook it in a Rosle Dutch oven! These Rosle Dutch ovens are made of durable stainless steel and feature tight fitting lids. When you order a Rosle brazier or casserole pot with KaTom Restaurant Supply, you can rest assure you will get a competitive price! Order the best by purchasing a Rosle brazier from KaTom Supply today!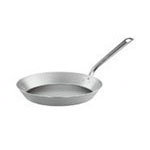 When you're in the market for a great piece of cookware, look no further than KaTom's fine selection of Rosle fry pans. These high quality Rosle fry pans come in stainless steel as well as wrought iron varieties to best suit your personal cookware tastes. When you first use a Rosle saute pan you're sure to taste the Rosle difference! Purchase the Rosle saute pans you need today for a competitive KaTom Restaurant Supply price!