Pot/Kettle Filler & Faucet
Need to quickly and efficiently fill large pots or kettles that have a hard time fitting in the sink? Look no further, KaTom has the pot fillers your restaurant needs! Our pot fillers feature premium construction. Choose from wall or deck mounted pot filler faucets. Need a pot filler with a double joint swing nozzle? We have those as well as pot filler faucets in low lead varieties. Order your pot filler faucets with KaTom today!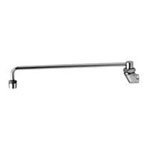 KaTom Restaurant Supply carries a vast selection of helpful pot fillers that are sure to make your cooking experience that much easier! Pot fillers are designed with taller heights than standard faucets to make stock pot access easier. Have no fear; KaTom's selection of pot fillers and kettle fillers are priced with your budget in mind. Order the kettle fillers your restaurant needs today with KaTom.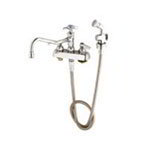 Looking for a new workboard faucet? No problem! KaTom carries a great selection of workboard faucets that are priced to sell! A workboard faucet is a perfect, heavy duty faucet option for food service businesses. KaTom's workboard faucets come in several varieties to best fit your establishment's needs. Find the workboard faucets your restaurant or business needs in KaTom's selection of workboard faucets today.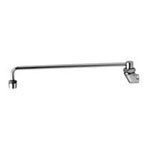 Is boiling water in your catering business or restaurant a hassle? Heavy pots full of water can be quite difficult to carry to the stove! Eliminate this problem with a wok wand faucet from KaTom Restaurant Supply. By installing a wok wand faucet above your range there is no need for anymore heavy lifting! Choose from our models with wrist action handles and swivel nozzles. Order a wok wand faucet for your restaurant today!