Pot/Kettle Fillers & Faucets
It can be difficult to fill a pot or kettle with an ordinary faucet. A pot or kettle filler and faucet is a good solution to this problem. These models are able to fill a pot or kettle while it sits on the counter or stove. They can do this through either multiple joints—allowing the faucet to swing—or through a flexible hose. We have dozens of different units to best fill your pot or kettle.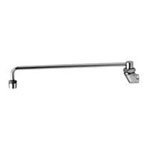 Pot or kettle fillers are designed to be taller than normal faucets or to use as a flexible hose to make filling large cooking and stock pots easier. Faucets attached to a hose may also have a pot hook valve to make filling even more efficient. Double jointed faucet designs allow for extra reach to fill even the largest pots or steam kettles. Available in a wide variety of shapes and sizes, it is important to remember to have measurements and types of water inlets, faucet sizes and mounting configurations available when ordering.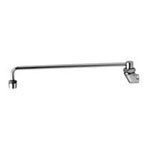 Add an extra-long wok wand faucet to your range to get that extra reach needed to cook or clean your woks. . Available in a variety of lengths, some have wrist handles making for easy operation. Remember when ordering to be aware of the water inlet type and faucet measurements to ensure that you get the right hardware to fit your needs.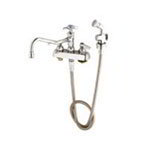 Workboard faucets are perfect for any heavy duty sink. Deck or wall mounted, some may include spray hoses, for the flexibility to handle additional tasks. Some models offer oversized wrist handles for easy operation when hands are full. Longer spouts make it easier to fill large cooking and stock pots, while shorter ones are better for washing hands without making a mess. Remember when ordering it is important to note the type and size of water inlets and center-to-center faucet measurements.