Patio Heater
Don't let the weather stop guests from eating on your beautiful outdoor patio! KaTom Restaurant Supply carries a great selection of patio heaters that are sure to keep your guests comfortably warm. Choose from KaTom's several different designs of patio heaters for the model that will best suit your needs. You'll love KaTom's affordable pricing and great customer service when you order your restaurant or hotel's patio heaters! Order today!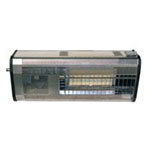 Chilly weather have your guests shivering? Keep your restaurant or hotel guests feeling nice and warm with KaTom's quality selection of overhead luminous patio heaters! These overhead luminous patio heaters come in a variety of sizes so big or small KaTom has them all! Choose from aluminum or sturdy stainless steel overhead luminous patio heaters from KaTom Restaurant Supply and save with our great pricing!
Have a large outdoor eating area that needs a little bit of warming up? KaTom's great selection of parasol patio heaters are perfect for wide areas! These fantastic parasol patio heaters look great in al fresco dining areas while keeping guests warm. Too hot or too cold? No problem! KaTom has parasol patio heaters that are temperature adjustable and even portable! Choose the model of parasol patio heaters that will work best for your establishment with KaTom today!
Chilly nights shouldn't have your guests cold and uncomfortable! KaTom Restaurant Supply carries overhead tube heaters that will not only keep your guests warm but stay up and out of the way. These overhead tube heaters come in several sizes so you'll be sure to find the overhead tube heaters that will best heat your outdoor area. Choose from KaTom's overhead tube heaters for your chilly night solution today and experience our great pricing!