Panini & Sandwich Grill
Soup and salad is a classic combination! Make deliciously grilled sandwiches your customers will appreciate with a commercial Panini grill from KaTom! Our commercial sandwich grills are perfect for sub shops and restaurants. Choose from our commercial sandwich grills with grooved or smooth surfaces! Having a hard time choosing? We have commercial Panini grills with combination cooking surfaces! Order a commercial Panini grill today!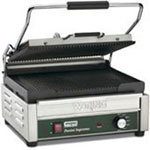 Bring customers pouring in with trendy Panini sandwiches made with one of KaTom's commercial grooved Panini grills! No matter the size of your restaurant or sub shop we have a commercial grooved Panini grill with the right cooking surface size! These models leave attractive grill marks on the sandwiches for great presentation! Find the commercial grooved Panini grill your restaurant needs with KaTom Restaurant Supply!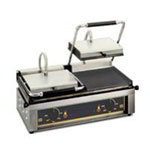 Everyone loves Paninis so why not add them to your restaurant menu for more food sales? Your customers will love the crispy bread that results from using a smooth Panini maker from KaTom. These smooth Panini makers work great for creating other toasty sandwiches as well, including grilled cheese. KaTom sells smooth Panini grills in two sided and single sizes to best fit your restaurant's needs. Order the smooth Panini grill you need with KaTom today!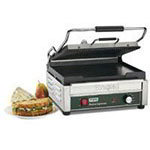 You'll be adding a valuable piece of equipment to your cooking team when you order a grooved & smooth combo grill for your café or restaurant! Our quality grooved & smooth combo grills allow you to make food with or without attractive grill marks. We carry units in several sizes so finding the Panini grill that is perfect for your business is a sure thing! Order the grooved & smooth combo grill you need to add delicious grilled sandwiches to your menu with KaTom!