GET Monarch Series
Your clientele will dine like royalty with this magnificently designed GET Monarch Series melamine dinnerware. With a truly sophisticated appearance, these melamine dishes provide a perfect presentation piece for your meals. Not only are they luxurious, these melamine dishes are constructed with a break resistant material so you will be using them for years to come.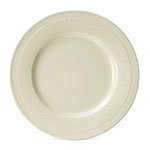 Treat all of your patrons to the upscale taste of this aesthetic Princeware melamine dinnerware by GET. Fluted edges and a refined color make these classic melamine dishes elegant presentation pieces for your food creations. This lasting melamine dinnerware has extremely durable construction for long term use and break resistance. These beautifully designed melamine dishes are available in several different sizes to fill the needs of your establishment.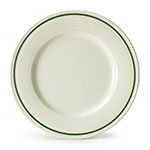 Give your guests a taste of the affluent with this magnificently designed GET Kingston melamine dinnerware. A deep hunter green trim and fluted edges make these classy melamine dishes a sophisticated backdrop to your culinary creations. This durable melamine dinnerware boasts more than just looks; it also comes constructed with heavy duty break and stain resistant materials. These classy melamine dishes are also dishwasher safe, saving you cleaning time for the years to come.