Residential Handheld & Stand Mixers
Making homemade pasta, cakes, pies, and even ice cream is simple with a residential stand mixer designed to help the home chef get professional results. A residential stand mixer will perfectly mix all your favorite recipes together without tying up your hands for long periods of time. Use a residential handheld mixer for great mixing power without the bulk of a large machine. Find the residential mixers your home kitchen needs at KaTom.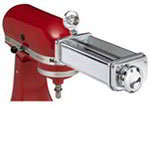 Start to enjoy cooking and baking again with a new residential stand mixer. The right stand mixer can simplify the cooking experience in your house by freeing up your hands for more pressing matters. We offer a huge selection of residential stand mixers that come in multiple sizes and in a rainbow of colors. Find the perfect stand mixer for your home today!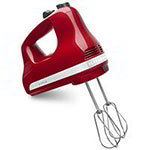 Get all up in your recipes business with a convenient hand mixer for your home. Residential hand mixers are lightweight which make them very easy to use and cleaning is a cinch with the removable beaters. Our selection of residential hand mixers offer a comfortable handle and multiple speed settings to accurately mix or blend any recipe. Find the right hand mixer for your home at KaTom Restaurant Supply.