Meat Processing Equipment
Meat processing equipment allows you use only the freshest meats available. You can now grind, chop, press, and saw your own meat. Cut and season your meat the way you and your customers like it. With the vast meat processing supplies we have, you will find what you need to treat your own meat. Enjoy your own homemade sausage, bacon, and hamburger with all of the latest meat processing equipment available.
Chopping and grinding fresh meat is quick and easy with a handy meat chopper & grinder. Your customers will appreciate the attention to detail you give to the meats you serve or sell. Our commercial grade meat choppers and grinders are built for heavy duty use in grocery stores, butcher shops, restaurants, and more. Check out the huge selection of meat choppers and grinders we have available at KaTom Restaurant Supply today!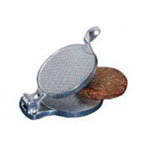 Manually create the best hamburgers around with a new hamburger press. With a hamburger press all your tasty burgers will consistently be one uniform shape and size. Our selection of hamburger presses are easy to use and clean. Hamburger presses allow you to choose from multiple sizes according to how large or small you want your burgers to be. Find the hamburger press that is best for your business at KaTom now!
Make your own specialty slices of meat with a meat and bone saw. Our selection of meat & bone saws are made to last and will easily cut most meat varieties. Meat and bone saws are perfect for the meat department at the grocery store or a butcher shop. You customers will love the fresh slices or cuts of meat your shop creates with a new meat and bone saw! Check out the amazing selection of meat & bone saws available at KaTom Restaurant Supply today!