Meat Processing Equipment
Save money by buying in bulk, while serving your customers the freshest available product by using your own meat processing equipment.
Chopping and grinding fresh meat is quick and easy when you choose from our selection of handy meat choppers and grinders.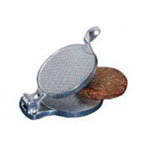 With a hamburger press all your tasty burgers will consistently be one uniform shape and size.