Manitowoc Series Ice Makers
Manitowoc Series ice makers feature compact, front-breathing design, making them ideal for installation underneath counters and beside other equipment in tight spaces. They are made with corrosion-resistant DuraTech® aluminum exteriors and smooth, sealed food zones with coved corners for easy cleaning. The Manitowoc Series ice makers are available in air-cooled or water-cooled versions and half-dice, dice, or regular cube styles.
The Manitowoc Indigo Series ice maker is the future of ice! What makes Manitowoc Indigo Series ice machines so fantastic you ask? Manitowoc's Indigo Series ice makers come with an easy to read display that automatically generates maintenance reminders and warnings. You can also choose from 14 different languages to display all your service instructions and much more. With the Manitowoc Indigo Series built-in intelligent diagnostics you will be provided with important information about the use of your machine and diagnostic feedback for worry free operation. With an air assist ice harvest, faster cycles, and a customizable ice making schedule, Manitowoc's Energy Star approved Indigo Series ice machines will save energy and money. The Indigo Series active clean system helps you produce the best possible product by inhibiting bacteria growth and unwanted deposits and minerals.  With Manitowoc's ice assurance you are guaranteed to always have ice when and where you need it. With over 100 Manitowoc Indigo Series models to choose from, finding the right size indigo ice machine is easy!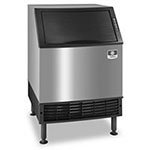 Manitowoc NEO™ Series ice makers have touch pad controls with an illuminated 'Power' button, a 'Delay' function to pause ice production for 4, 12, or 24-hrs., and a 'Clean' button for initiating the unit's self-cleaning process. A 'Service' indicator light alerts operator when maintenance is required and a 'Full Bin' indicator signals that the ice bin has reached capacity. The air filters in NEO™ ice machines are dishwasher safe, front-mounted, and removable without tools for routine cleaning.