Shop Ravenscroft Gift Sets
Display
12
Items Per Page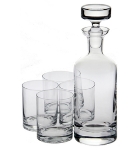 SKU: 152-W6826
The Ravenscroft Crystal Wellington Double Old Fashioned Set is handcrafted by the most highly committed European craftsmen and produced from ancient mineral deposits leving it free of impurities. The classic bottle shape of the decanter is lucid and solid topped with an elegant stopper. Coupled with a set of 4 heavy bottomed Double Old Fashioned Glasses, the classic form of both the decanter and Double Old Fashioned Glasses makes this the perfect spirits decanter set. Decanter H 11.5 inches, Cap: 32 oz. H 4 inches, Cap: 10.5 oz.
Free Shipping!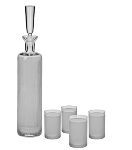 SKU: 152-W7383
The Ravenscroft Crystal Vodka Decanter Set is the most elegant and dramatic way to serve your favorite Vodkas. The decanter is painstakingly hand carved by old world European Craftsmen. A frosted glaze completed both the decanter and shot glasses. The set is unlike any other! Decanter H 15 inches, Cap: 23.5 oz. Shot Glasses H 3.25 inches
Free Shipping!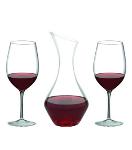 SKU: 152-RC222
Give the gift of luxury. The ideal wineglass and decanter set for the novice or enthusiast! The R.Croft Bordeaux gift set includes two Ravenscroft Invisible Bordeaux stems and one R.Croft Bordeaux Decanter. The pieces in this set are made with the same attention to detail as all Ravenscroft pieces. Designed in Europe, the hand-crafted decanter, with a punted bottom for ease of handling, exceeds all of the expectations of the serious enthusiast. The R.Croft Bordeaux Decanter has the broad body and thin neck of most traditional decanters, creating an optimal space for aerating your young or aged wines. Each whisper light Ravenscroft Invisibles Bordeaux stem is finely tuned to deliver wine to specific zones of the palate making it the perfect choice for everyday enjoyment of your favorite wines. The perfect set for everyday use or for that special occasion! R.Croft Bordeaux Gift Set Includes: One R.Croft Bordeaux Decanter Height: 9 1/2 in. Capacity: 38 oz. Two Ravenscroft Invisibles Bordeaux Stem's: Height 9 in. Capacity 22 oz.
$59.99
Free Shipping!
Display
12
Items Per Page