The Commercial Juicer Buyers Guide
Whether you're looking to start selling fresh squeezed lemonade at your concession stand or healthy juice concoctions at your health food store, it goes without saying that your business is going to need a commercial juicer. To help you choose the best model for your needs, we have written a guide to show every juicer type and its ideal uses.
Manual juicers are usually best for bars or smaller concession stands since they only produce a small amount of juice at one time and require a person to make them work successfully.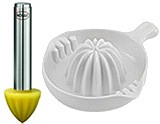 Citrus Reamers – Reamer juicers come in two main styles; with or without a juice collecting dish. Models without a juice collecting base usually feature a handle or stem for utilizing the reamer head. Citrus reamers are ideal for single servings. Reamers can be made with glass, plastic, or even stainless steel.



Juice Presses – This type of juicer is most commonly seen being used by concession stands. A juice press utilizes lever action to press the citrus, sending juice through the strainer core. Juice presses are typically made with stainless steel, aluminum alloy, and/or zinc alloy.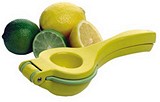 Lemon Lime Squeezers – Squeezers are ideal for bar applications. To use a citrus squeezer simply add half of the citrus in between the two handles. Press the handles together to juice the fruit. Some squeezers feature extra strainers. Lemon lime squeezers are typically made of enameled aluminum or stainless steel.
Electric juicers are ideal for businesses that have a high demand for juice or those without much man power for juicing. Most electric juicers, besides the automatic juicer, still require a person to utilize them but make the juicing process much easier with motorized parts.


Electric Reamer – For citrus fruits, much like the manual reamer, but without as much effort! The reamer part of this juicer is motorized, saving time and man power. Electric reamers typically feature spouts.



Centrifugal Juicers – Centrifugal juicers can be used for fruit as well as for creating vegetable juice. Because the centrifugal juicer is much quicker than manual juicers, it is ideal for health food stores. A centrifugal juicer features a blade that quickly cuts the item being juiced, a strainer that helps to extract the juice, a spout for dispensing, and usually features a plunger for aiding feeding the fruit into the juicer.


Pulp Extractors - The pulp extractor utilizes a sieve and extractor to juice vegetables or fruit. A pulp extractor features a pulp waste container where seeds and other solid parts of the produce are deposited. Pulp extractors are perfect for larger operations that need more juice than a manual unit can handle.


Masticating Juicers – Masticating juicers are much like pulp extractors as they too continuously add solid seeds and peels to a pulp waste container. Masticating juicers have fewer RPMs than a pulp extractor, therefore creating less heat inside of the juicer. This ensures longer lasting juices and proper juice oxidation. Masticating juicers are great for use in smoothie shops or health food stores and can also easily grind coffee.


Automatic Juicers –An automatic juicer is the best choice for hotel chains, popular juice bars, or restaurants with a busy breakfast service. Automatic juicers juice a bulk amount of oranges, up to 20 oranges a minute! Dispense the oranges into the top bin of the automatic juicer and the machine will do the rest of the work, saving man power and time. It slices the fruit, squeezes it, and then separates the solid waste from the juice. Many automatic juicers feature juice tank reservoirs with dispense nozzles.
We hope this guide has helped you to pick the best juicer for your business's needs. As always, KaTom is here with the heavy duty juicers you need at competitive prices! Get to juicing with a juicer from KaTom.