Janitorial Cart
Simplify the process of cleaning in your establishment by ordering a janitorial cart for your janitorial team. These cleaning carts help to keep everything your cleaning team needs easily accessible on the cart. You can easily use a janitorial cart for cafeterias, schools, restaurants and more! Order the cleaning carts and accessories that will improve cleaning times with your friends at KaTom Restaurant Supply!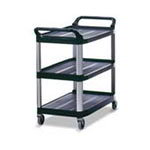 A utility cart is one of the most versatile pieces of equipment in a restaurant. From moving ingredients and containers to transporting tablecloths and dishes, these are a valuable part of your establishment. We offer hundreds of different versions to best suit your needs. These include janitor carts, platform trucks, housekeeping carts, tractor carts, and correctional tray delivery carts. The largest carts we offer have a capacity of 2000 pounds.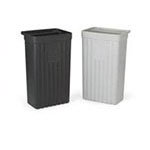 Make your janitorial cart more efficient by adding refuse bins to it from KaTom! KaTom Restaurant Supply carries janitorial cart refuse bins that will make it easy to throw all of the waste your janitorial team finds away. Do you own a restaurant or cafeteria? KaTom also carries the silverware bins you need for easy clean up! Order the affordable refuse and silverware bins you need today with KaTom.