Janitorial Carts
Simplify the process of cleaning in your establishment by ordering a janitorial cart for your janitorial team. These cleaning carts help to keep everything your cleaning team needs easily accessible on the cart. You can easily use a janitorial cart for cafeterias, schools, restaurants and more! Order the cleaning carts and accessories that will improve cleaning times with your friends at KaTom Restaurant Supply!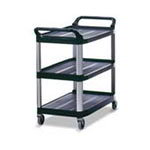 Sometimes we need help transporting goods like ingredients, containers, and other items. Utility carts are perfect for these moments! Here at KaTom Restaurant Supply we carry utility carts with or without shelving. Need a heavy duty unit? No problem! We sell utility carts for carrying up to 2000 pounds at a time! Not only do we have units to meet your every weight capacity need we also carry them in a variety of eye pleasing colors for your choosing.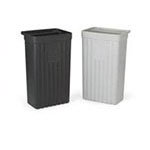 Make your janitorial cart more efficient by adding refuse bins to it from KaTom! KaTom Restaurant Supply carries janitorial cart refuse bins that will make it easy to throw all of the waste your janitorial team finds away. Do you own a restaurant or cafeteria? KaTom also carries the silverware bins you need for easy clean up! Order the affordable refuse and silverware bins you need today with KaTom.