Hot Water Dispenser
A hot water dispenser can help sterilize your kitchen utensils without having to run a large sanitizer, wasting your time and money.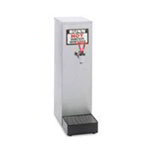 A countertop hot water dispenser instantly produces piping hot water at the touch of a button.
Combine form with function to make any hot water based beverage or food instantly with the help of a built-in hot water dispenser.