Hot Water Dispenser
With an instant supply of piping hot water, a hot water dispenser can significantly change the way your kitchen or café is run. Hot water dispensers are a wonderful tool for preparing large scale meals and hot beverages. A hot water dispenser can help sterilize your kitchen utensils without having to run a large sanitizer, wasting your time and money. Find the right hot water dispensers for your restaurant, cafeteria, or business here.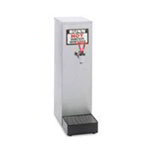 Need hot water on the fly? Try a countertop hot water dispenser to ease your beverage or food preparation. Countertop hot water dispensers instantly produce piping hot water at the touch of a button. Create small and large batches of food and beverages with the help of a hot water dispenser conveniently located on your countertop. Look no further for the countertop hot water dispenser for your needs.
Built-in hot water dispensers are a convenient tool in any restaurant or café. No more steaming or boiling for you! Combine form with function to make any hot water based beverage or food instantly with the help of a built-in hot water dispensers. KaTom Restaurant Supply has the built-in hot water dispensers you have been looking for.