Hot Dog Roller Grill
Add a traditional American favorite to your menu, with a new hot dog roller grill. Whether you own a convenience store, stadium, or concession stand we have the right hot dog roller grill for you. Hot dog roller grills are a great way to easily cook large quantities of hot dogs at once. A hot dog roller evenly distributes heat in a rolling motion to keep hot dogs, brats, and other savory treats at a safe holding temperature until they are ready to serve. Find all the hot dog roller grills you need at KaTom.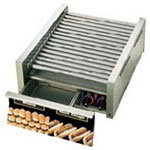 All the convenience of a hot dog roller grill combined with bun storage in one unit! Save space and money by purchasing a hot dog roller grill with built-in bun storage. With our wide selection of roller grills with bun storage space your profits will increase with your hot dog and brat output. The units are perfect for a self-serve location! Find a handy roller grill with built-in bun storage at KaTom Restaurant Supply now!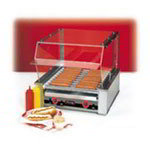 Start selling a great American classic with a new roller grill without bun storage. Perfect for the self-service area in your store or stand, roller grills without bun storage give your customers the opportunity to fix their franks just how they like them. Roller Grills without bun storage provide a flexible work environment with the capability to serve from both sides. Roller grills are also great for self-serve locations. Find the right roller grill without bun storage for your store today!