Hot Bar
Whether in self-service applications like buffets or back-of-house, a hot bar is a great way to keep food warm until serving. Food pans are placed over water pans heated from below by a burner. That creates steam, which provides quick and even heat transfer to the food above. Gas and electric models are offered, as are a wide variety of sizes. Many electric models have casters for mobility, making them a good choice for caterers. Most models have either a stainless steel or laminated vinyl exterior.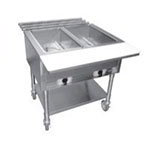 Keep your food warm, delicious and ready to serve for hours with an electric hot food bar. Great for buffets, banquet halls, and cafeterias, these hot food tables will keep your food at safe temperatures for extended periods of time. Constructed of durable and easy to clean stainless steel, with open or sealed wells, these units are designed to hold single or multiple food pans. Available in a variety of sizes, they can be stationary or mobile to fit your specific needs. Other features can include sneeze guards and built-in carving boards. Adjustable thermostats make it easy to maintain temperatures of food that has been prepared in advance so that it can be served customers throughout the day.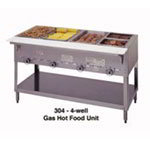 Prepare your food in advance and keep it hot and delicious for hours with a gas hot food bar. Great for cafeterias, buffets, casinos, banquet halls, and other high volume settings, these tables are constructed of durable materials such as stainless steel and offer sealed or open well designs. With up to eight wells and adjustable thermostats, these tables are available in many different sizes and configurations so that you can keep your food at safe serving temperatures all day.