Hand Sink
If you own an establishment that serves food, it is required that you have a commercial hand sink. We offer dozens of different models, from drop-in units that can fit in counters to wall-mounted models that are strong enough to hand up to the demands of a restaurant environment.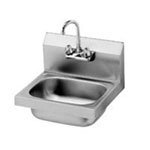 Wall mount hand sinks can save on valuable floor space while still offering a station for employees to keep hands clean, as required by food safety regulations. Some include cabinet bases for extra storage, have soap or towel dispensers, have knee pedals or are ADA compliant. There are also models that have a narrow profile for kitchens with limited space.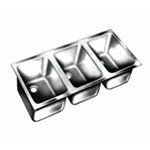 Cleanliness and hand washing is a necessity and always a food code requirement in any foodservice setting. Made from durable and easy to clean stainless steel, these sinks come in a variety of sizes to fit your space.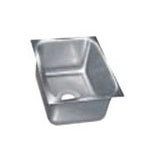 Hand washing is necessary and always required by local codes for foodservice and production. A quality undermount hand sink will allow you to save space and maintain a seamless countertop. Made of durable stainless steel for long life, they are designed to be incorporated into a full line up of other drop in equipment.