Gold Medal Frosted Nuts
For frosted nuts of any kind, use Gold Medal frosted nut flavorings and accessories. The roasters come in a variety of sizes and production capacities. With a 35 minute roast time, you can keep nuts fresh and readily available. Gold Medal also offers bags of mixed nuts, peanuts, almonds, cashews, and pecans along with cones for serving.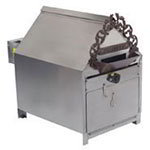 KaTom sells a range of Gold Medal frosted nuts machines, including roasted peanut machines and a Pralinator for making glazed almonds and pecans. These frosted nut machines have either a left or right-hand dump, and have up to a 10 pound batch capacity. Most are constructed from sturdy stainless steel, and some feature digital controls for easy operation.
Easily serve all the frosted nuts your customers can handle with handy Gold Medal frosted nut cones. We carry multiple Gold Medal frosted nut mix & cone options to suit all your frosted nut service needs. Create a delicious variety of nuts with Gold Medal's frosted nut mixes. To be your one stop shop for all of your Gold Medal frosted nut needs, KaTom has bulk quantities of many popular nuts and mixes available. Check out our great selection of Gold Medal frosted nut mixes and cones now!