Gold Medal Frosted Nuts
Your customers will go nuts for Gold Medal's fabulous selection of frosted nuts! The delicious aroma of frosted nuts wafting through the air will be irresistible to anyone who walks by your stand. Gold Medal has everything you need for your frosted nut business. Frosted nuts are a sweet and rich treat that offer a unique, delicious taste in the traditional concession stand environment. Find the Gold Medal frosted nut supplies and equipment your business needs here!
Easily serve all the frosted nuts your customers can handle with handy Gold Medal frosted nut cones. We carry multiple Gold Medal frosted nut mix & cone options to suit all your frosted nut service needs. Create a delicious variety of nuts with Gold Medal's frosted nut mixes. To be your one stop shop for all of your Gold Medal frosted nut needs, KaTom has bulk quantities of many popular nuts and mixes available. Check out our great selection of Gold Medal frosted nut mixes and cones now!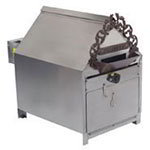 Feeling a little nutty? Try a frosted nut machine by Gold Medal to create delicious frosted nuts again and again! For all your glazed almonds, peanuts, or cashews use a Gold Medal frosted nut machine to reel in the customers. The sweet aroma of frosted nuts will sweep through the air and your customers will not be able to resist. Find the Gold Medal frosted nut machine for your business at KaTom Restaurant Supply now!