Food Bar Accessories
In order to keep your buffet line functioning, we have a wide selection of food bar accessories. We offer insets for drop-in display, water pans that provide even heating to food pans, adaptor plates and adaptor bars to accommodate different types of food pans, and crocks and crock lids.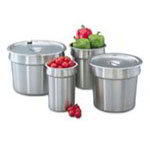 Broaden your buffet's entree options by adding food bar insets from KaTom Restaurant Supply! Soups presented in our mirror finished food bar insets will look divine to your guests. If soup is not your food establishment's forte KaTom also carries food bar water pans that work great for holding items that need to be surrounded by liquid, like vegetables. To find food bar water pans and food bar insets with affordable pricing that is second to none choose KaTom!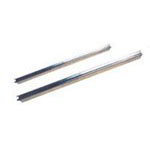 Food bars effectively keep foods at the needed temperatures but often leave the organizational aspects to the restaurant owner. Set up your food bar attractively with food bar adaptor plates from KaTom! Food bar adaptor plates work by providing openings to set insets or pans in. Food bar adaptor bars are another great way to set up your buffet as they provide a customizable edge to set your food pans on. Order a food bar adaptor plate or food bar adaptor bar from KaTom today!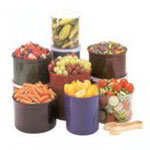 Save time with food bar crocks for your buffet or catering business. By presenting foods to your guests in KaTom's attractive food bar crocks you can better organize your food bar. Many of our food bar crocks come standard with food bar crock lids that allow for easy left over storage, also saving time. No matter the capacity sizes you need KaTom has the crocks and food bar crock lids you need! Order our affordable food bar crocks for your food establishment today!