Floor Mixer
Great for busy bakeries, restaurants, or other high volume settings, heavy duty floor mixers can blend, mix, knead and perform a wide variety of other tasks to help you increase production and save on labor costs. Planetary style units are made for general all-purpose use and spiral style units are available specifically for kneading and mixing large quantities of dough. With capacities from 20 to 150 quarts and a wide range of speed settings, these machines can be used to help make large amounts of product quickly and easily.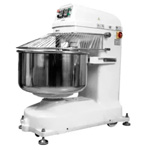 A spiral mixer is known for being gentle on the dough because of its innovative design. On these, the agitator remains in a fixed position while the bowl turns around it. Once popular only in Artisan bakeries, their use is now significantly more common. Besides being gentle on the dough, these also allow you to mix large amounts of dough at one time, which has helped increase its popularity. However, unlike other models, they are best for mixing dough and do not have a wide variety of attachments to mix other ingredients.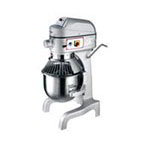 By having the agitator go around the mixing bowl in a circular pattern, a planetary mixer is designed to mix dough thoroughly. This circular pattern is how this machine got its name as the agitator moves around the bowl like a planet moves around the sun. These models have a wide selection of attachments that can be added, allowing you to mix anything from dough to icings. Because of this versatility, they can be found in bakeries and kitchens across the country.