Floor Mixer
A floor mixer is a solitary unit designed to mix large amounts at one time. A commercial floor mixer is perfect for a busy bakery, restaurant, or cafeteria. Most floor mixers can be classified in for either all-purpose use or specifically for doughs. Every commercial kitchen should have a floor mixer to help ease the food preparation process. Find the right floor mixer for your business today!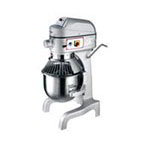 Add a planetary mixer to your kitchen for all your mixing and blending needs. Planetary mixers are built for any and all purposes, especially heavy duty mixing. Thoroughly blend, mix and aerate all your precious ingredients with consistent and predictable results using a planetary floor mixer. Find the perfect planetary floor mixer for your restaurant at KaTom Restaurant Supply.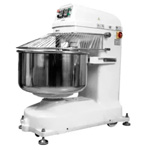 For large quantities of dough or pizza dough try a spiral mixer in your kitchen. Spiral mixers work through tough dough to consistently blend and work your baked goods to perfection. Dough can be a tricky substance to work with, so give yourself a break and try a spiral mixer for all your combining needs. Find the best spiral mixer for you restaurant or bakery at KaTom Restaurant Supply.