Equipment Stands
If you need an easy way to save your precious restaurant counterspace or need extra room for your new griddle then these quality equipment stands are a perfect choice! These equipment stands come with or without wheels and are made in the sizes you need! KaTom's selection of equipment stands feature models with stainless tops and adjustable undershelves for ease of storage. Order the equipment stands your commercial kitchen needs today!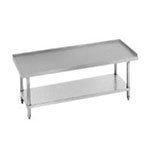 Both new and old businesses are effected by the ever changing economy. When the times are rough and you still need quality for your commercial kitchen look no further than this stainless topped equipment stands! Because these equipment stands with stainless steel tops have galvanized legs you are able to save money. KaTom's equipment stands with stainless steel tops are great for heavy duty use! Order the stainless topped equipment stands your restaurant needs at an economical price!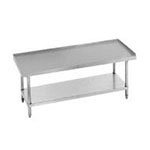 An all stainless equipment stand is the perfect unit for your restaurant if durability is what you have in mind. These sturdy stainless steel equipment stands save counterspace and provide extra storage room with featured undershelves. No matter your restaurant size we have the large or small stainless steel equipment stand you need to keep counterspace free! Find competitively priced all stainless equipment stands ready for your choosing. Order today!