Equipment Stand
If you need an easy way to save your precious restaurant counterspace or need extra room for your new griddle then these quality equipment stands are a perfect choice! These equipment stands come with or without wheels and are made in the sizes you need! KaTom's selection of equipment stands feature models with stainless tops and adjustable undershelves for ease of storage. Order the equipment stands your commercial kitchen needs today!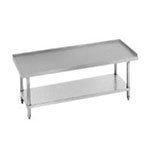 KaTom offers these economy equipment stands for convenient storage at an affordable price. These equipment stands come in a variety of styles, sizes, and materials so you can choose the perfect stand for your business' needs. These mixing tables have different levels of storage options and have optional casters for mobility. KaTom carries a variety of economy equipment stands at different prices and weight capacities for all your storage needs.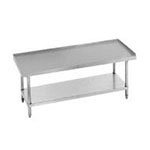 An all stainless equipment stand is the perfect unit for your restaurant if durability is what you have in mind. These sturdy stainless steel equipment stands save counterspace and provide extra storage room with featured undershelves. No matter your restaurant size we have the large or small stainless steel equipment stand you need to keep counterspace free! Find competitively priced all stainless equipment stands ready for your choosing. Order today!