Equipment Stand
Keep your equipment organized and productive with a quality equipment stand. These tables are perfect for prep work, using heavy countertop appliances or as a general work area. Constructed from durable galvanized or stainless steel, these tables can come with additional shelves to store appliances, tray holders for baking sheets, and with or without wheels for extra mobility. Available in a wide variety of sizes, KaTom offers a table to fit your kitchen's needs.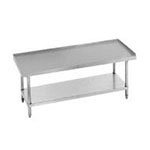 If you need extra space to set your cooking equipment, an all stainless equipment stand is a durable option. Their stainless steel construction is strong enough for the rigors of kitchen work. Because of this strength, some models are able to hold heavy equipment like griddles or charbroilers. Be sure to check the specifications of the stand you're interested in to make sure that it has the capacity to hold the weight of the equipment you wish to put on it.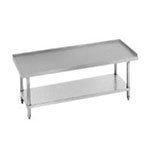 An economy equipment stand is a good solution if you need a piece of equipment like a griddle but lack the counter space for it. Heavy commercial mixers, microwaves, and convection ovens can also be placed on these. Before you buy a stand, check to see how much the piece of equipment you want to place on it weighs, and then check the weight capacity of the stand. Lower-priced, smaller stands typically have a lower capacity than larger, more expensive units.