Elkay Tables
Whether you need a durable work area with undershelf storage, or a place to store your dishes after washing, Elkay features a variety of tables or dishtables to satisfy your needs. Each table sits on galvanized legs and the tabletops are made of stainless steel so they are durable and resistant to corrosion as well. With a variety of sizes to choose from, Elkay makes choosing the right size for your kitchen problem-free.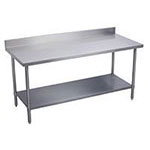 These work tables from Elkay come in a variety sizes and are built out of either stainless steel or galvanized aluminum for superior durability and easy cleaning. The tables have an optional undershelf for convenient storage. Elkay work tables have turned-down edges to keep clothes and objects from getting caught and are built to satisfy all your storage needs.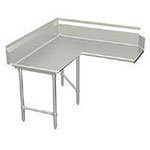 Elkay Dishtables use stainless steel tops resting on galvanized legs to create a durable washing and storage space. The variety of lengths and designs of these dish tables make expanding your sink area easy; with the optional pre-rinse sink design that lets you soak before moving to the main washing station. The rounded corners keeps splashes and spills contained on the sink and prevent objects from sliding off.