Electrolux Ovens & Ranges
Finding the best oven for your commercial kitchen is as easy as ordering an Electrolux oven with KaTom Restaurant Supply! Electrolux ovens and ranges are built to last and come in a plethora of sizes. When you order an Electrolux range or oven from KaTom Supply, you'll notice right off the bat that the pricing is competitively low to meet any budget! Choose the ideal Electrolux range for your restaurant's kitchen from Katom.com!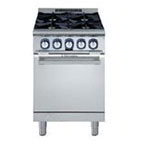 Replace your old range with an affordably priced Electrolux restaurant range from KaTom Restaurant Supply. KaTom's selection of Electrolux commercial ranges feature durable stainless steel construction and come in a variety of sizes to best fit your needs. Many of the Electrolux restaurant ranges KaTom carries feature an oven as well as cast iron burners. Feel free to browse KaTom.com for the Electrolux commercial range you need and experience the KaTom difference today!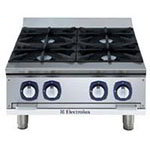 Save space in your restaurant's commercial kitchen by ordering a Electrolux hotplate from KaTom Restaurant Supply! KaTom's fine selection of Electrolux hotplates come in sizes as small as 12 inches wide that are perfect for cramped spaces. These Electrolux kitchen hotplates come in liquid propane or natural gas varieties to best suit your restaurant's preference. Make KaTom Supply your one stop shop for Electrolux kitchen hotplates and more-you won't regret it!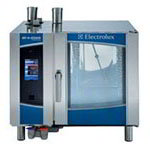 Make cooking everything from chicken to steamed vegetables a breeze with an Electrolux combi oven from KaTom Supply! Electrolux combi ovens can be programmed with as many as 1000 recipes and have easy to operate touch control panels. No matter if your restaurant needs an Electrolux combi steam oven for 6 or 20 pans, KaTom is sure to have you covered. Buy a flexible Electrolux combi steam oven for your restaurant or catering business with your friends at KaTom!