Delfield Scientific
Since its founding in 1949, Delfield has been dedicated to producing quality, American-made refrigeration equipment for a variety of applications. Their Delfield Scientific division produces refrigerators for laboratories, clinics, and other settings that require a high degree of precision and reliability. These refrigerators and freezers are available in many configurations. For exact temperatures and efficient operation, all units come standard with microprocessor controls, and a three-pass evaporator for stable temperatures and fast recovery. Solid or glass doors are available, and both include locks for security. Upright models are come with one or two sections and pass-thru versions as well as work table and undercounter units are also available.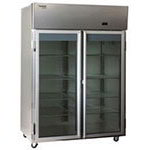 Delfield Scientific refrigerators are available in a variety of configurations to match your business's needs. Full-size upright refrigerators come in one or two section designs, and the doors are available in solid or glass. Smaller, undercounter and work table models are also available. All models are constructed with heavy-duty stainless steel and include a snap-in door gasket for easy cleaning and a door lock for security.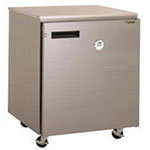 Delfield Scientific freezers are engineered for applications that demand reliability and precision. All models include microprocessor controls and an expansion valve refrigeration system. One and two section reach-in models are available with solid or glass doors. All models include adaptive defrost technology to maintain a clean, ice-free interior. Under-counter and work table models are also available.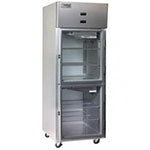 Delfield Scientific dual-temp refrigerators offer reliable refrigeration and freezing in one robust unit. Upright models are available with solid or glass doors and all units feature heavy duty stainless steel construction. The included snap-on door gaskets make cleaning easy and a door lock for securing sensitive materials. Adaptive defrost and large capacity condensate removal keep the interior free of ice, water, or freezing over.