Convection Ovens
Are you tired of long baking times and unreliable ovens that bake unevenly? Replace your old ovens with commercial convection ovens from KaTom! Our selection of commercial convection ovens circulate hot air, reducing cooking times while ensuring no hot or cold spots in your food. No matter if you're a small bakery business or a large dine in restaurant we have the commercial convection oven with the capacity to best fit your needs! Order today and save with our affordable pricing!
Do you need an oven that can keep up with your bakery or catering business? Look no more! KaTom carries commercial full size convection ovens at competitive prices! Our large selection of commercial full size convection ovens come with a variety of different controls and voltages/gas types so you're sure to find the perfect fit. Choose from our single, double, and triple stacked commercial full size convection ovens and order today!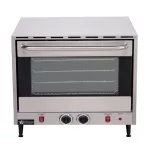 Do you need more cooking power but can't fit another large appliance in your small restaurant or bakery? If so KaTom's selection of commercial countertop convection ovens are perfect for you! Our commercial countertop convection ovens save space while cooking foods quickly and efficiently by using circulated air. We even carry models with microwave and humidity control specialty options so your needs are met! Find a commercial countertop convection oven that fits your business today!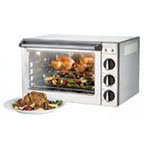 A quality commercial half size convection oven, like the models you'll find at KaTom, cook quicker than standard ovens due to the circulated air they use to distribute head evenly and efficiently. Do you need a gas oven? Here at KaTom we have gas and electric half size convection ovens with several voltages to choose from. With single or double stacking options and manufacturing from brands you trust you're sure to find the commercial half size convection oven your business needs with KaTom!