The Underbar Refrigeration Buyer's Guide
There is nothing more efficient for a bar to use than Underbar Refrigeration. It might not seem like much but Underbar refrigeration can drastically increase the speed of your restaurant bar or beverage area by making products, ingredients, and dinnerware readily available to your bartending staff.
KaTom Restaurant Supply carries a massive selection of underbar refrigeration in several styles. To better aid in choosing the best type of underbar refrigeration for your establishment, we have written a helpful guide on different types of underbar refrigeration.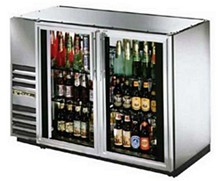 Back bar storage can be used for whatever your bar needs to refrigerate. Back bar coolers are great for refrigerating juices, bottled liquors, and garnishes for beverages. You can choose either back bar storage with glass doors for easy product viewing or back bar coolers with solid doors.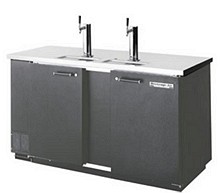 There's nothing better to get a fresh beer from than a kegerator! Kegeraters are most commonly used in bars or restaurants with beer service. Kegerators come with or without club tops for keeping chilled glasses or product. Most kegerators sold in the United States are compatible with half kegs and can hold anywhere from 1 – 4 of these kegs.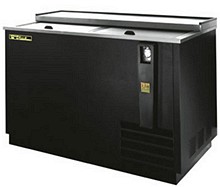 If your establishment serves a lot of bottled beer, this is the piece of refrigeration for you! Bottle coolers keep bottled liquors, sodas, and beers icy cold. Bottle coolers come in a large selection of sizes ranging from 1 section to larger 4 section models.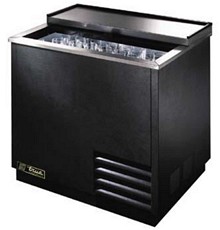 This type of underbar refrigeration is ideal for use in restaurants as well as bars. Mug chillers do just that; they keep your mugs icy cold and ready for whatever beverage is dispensed into them. Mug / Plate/ Glass chillers also make the job of keeping plates cold for dessert plating easy!