Commercial Refrigeration Buyer's Guide
Quality commercial refrigeration is perhaps the most important aspect of any kitchen. Refrigeration is the foundation of all layers of productivity in the kitchen. Proper refrigeration is essential to the quality of your food products, from freshness to extended shelf life, which reflects on the quality of your business. At KaTom, we carry several different types of commercial refrigeration for you to choose from. This guide will explain refrigeration types and their uses.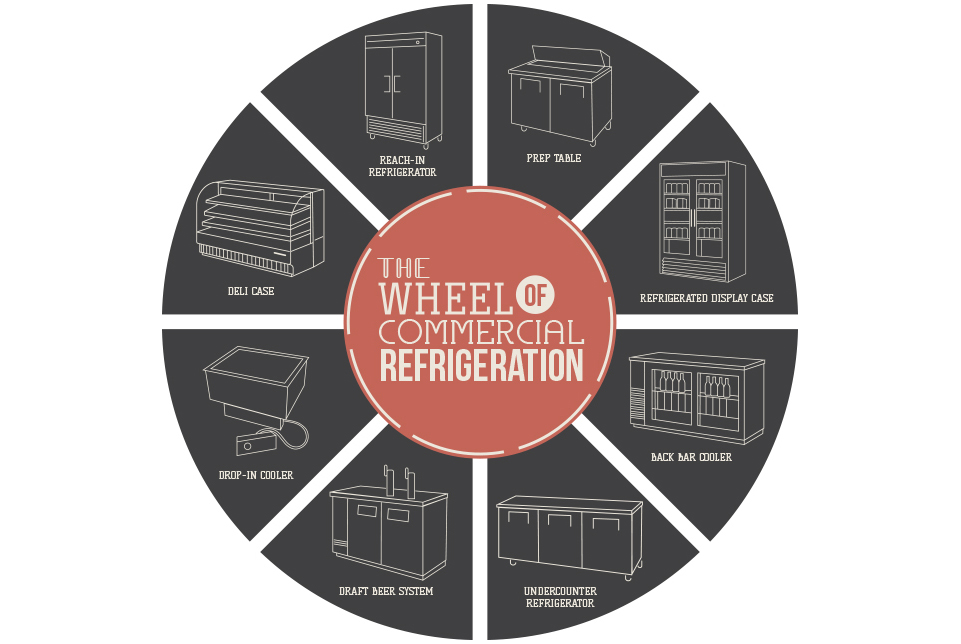 Reach In Refrigerators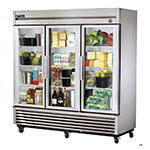 Reach in refrigerators & freezers can have either a solid or glass door, which are ideal for either the back or front of a business respectively. These units can be purchased with either a top mounted or bottom mounted refrigeration unit. The top mounted units offer more refrigerated area than bottom mounted units, and tend to run cooler because of the location of the refrigeration system. Bottom mounted reach in refrigerators and freezers allow for easy access to products, commonly called "no stoop" storage. Bottom mounted units also allow for additional dry goods storage on top of the unit.
Refrigerated Display Case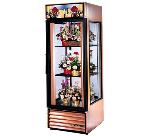 The display merchandisers section holds eight different types of merchandisers that are perfect for displaying all of your cold or frozen foods as well as other items that need to be in a cool environment. Refrigerator display merchandisers brilliantly display all refrigerated products in a manner that makes them more appealing to customers. Freezer display merchandisers hold all frozen food products that need to be displayed, from ice cream to frozen dinners. Space conscious coolers help increase impulse buys by displaying products in areas with limited space. Open air merchandisers have a doorless front but utilize a cascading wall of air to help insulated and protect products. Ice merchandisers conveniently hold all bagged ice, while helping to ensure a dry surrounding area. Floral cases hold floral arrangements at temperatures that will help to maintain and even extend the shelf life of the flowers. Wine merchandisers come in a variety of sizes and styles that hold wine at an angle to ensure proper storage. Sushi display cases are a great way to display sushi and other seafood products.
Deli Cases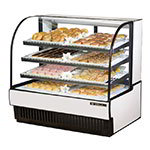 Deli cases are typically used to display freshly made bakery and/or deli products. The clear display increases the amount of impulse buys customers will make. These units can be purchased in either refrigerated or non-refrigerated versions. Straight glass, curved glass, and counter height units allow you a variety of style choices, each with their own specific benefits.
Undercounter Refrigeration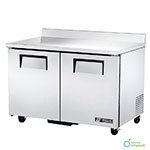 The worktop & undercounter refrigeration section holds 3 smaller categories, undercounter refrigeration, worktop refrigeration, and chef base & refrigerated equipment stands. The undercounter refrigeration category houses both refrigerators and freezers with flat tops that can be placed beneath and existing countertop for additional convenience. Worktop refrigeration includes both freezers and refrigerators that typically have a backsplash to help protect the work surface. Chef base & refrigerated equipment stands have numerous drawers and sections that allow for ample storage.
Back Bar Coolers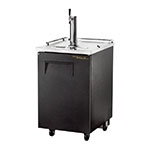 The bar refrigeration section houses 4 smaller categories of bar equipment. Beer dispensers / kegerators have storage space for a keg beneath the counter with a tap on top to allow for easy dispensing. Back bar storage is great for storing bottles and other necessary supplies behind the actual bar area. These units can also provide additional work area. Mug, plate, and glass chillers / frosters help to ensure cold glasses and plates, which create a more inviting appearance. Bottle coolers keep all bottles cold until they are ready to be brought out and served.
Drop In Cooler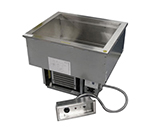 Many of the drop in refrigeration units offered through KaTom are manufactured by Delfield as well as Vollrath, Wells and APW Wyott. These units can be purchased in ice-cooled, mechanically cooled / refrigerated, mechanically cooled with eutectic fluid, combination hot and cold, and frost top varieties. Ice cooled pans are cooled by surrounding them with ice. Mechanically cooled / refrigerated drop in units feature an ON/OFF switch beneath the unit that controls the temperature. Mechanically cooled units that feature eutectic fluid provide 100% contact of LiquiTech on all sides of the pan to ensure consistently cold temperatures. Hot & cold combination units can be shifted from warm to cold storage at the flip of a switch. Frost top drop in units area perfect for presenting products while keeping them cool.
Prep Tables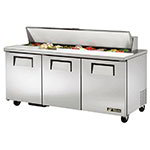 The food prep tables section holds both deli & pizza prep tables and sandwich & salad prep tables. Both varieties of prep tables have numerous sections that allow you to store a variety of ingredients. These units also feature a work space area or cutting board that provides ample room for "building" your food product. These units provide maximum functionality with the combined storage and preparation uses.
Milk Coolers
The school milk coolers section holds coolers that are specifically designed to hold milk products and other drinks at safe temperatures. These units can be purchased in singled sided models, double-sided models, and bulk storage coolers. Single-sided coolers only allow access from one side of the cooler, while double-sided coolers allow access from both sides of the unit, making them perfect for busier operations. Bulk storage coolers are a great way to store extra milk or beverage product until it can be placed in a smaller cooler for distribution.
Ice Cream Freezers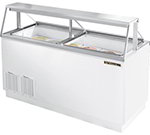 The ice cream freezers and dipping cabinets section holds both horizontal freezers and dipping cabinets. Horizontal freezers are ideal for holding cold products such as ice cream sandwiches and other prepackaged ice cream products. These freezers are typically used to display packaged ice cream for self-service. Dipping cabinets are frequently used in ice cream shops and other businesses that hold large tubs of ice cream. These units allow the customer to view the ice cream, while the employee serves the product.
Blast Chillers
Blast chillers are an often overlooked, but highly important, part of the commercial kitchen. These units are extremely efficient for cooling foods quickly because they use convected air to drop food temperatures rapidly through the "danger zone." This rapid drop allow products to remain fresh even after reheating for serving.
Walk-In Coolers & Freezers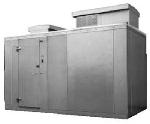 Walk in coolers & freezers are available in a variety of heights and can be purchased as either indoor or outdoor units. Walk in coolers & freezers have a large storage area that holds all cold products until they are ready to be used. Walk-ins typically have numerous shelves that hold boxes, food, or other products that need to be stored in a cool environment. Indoor coolers, indoor freezers, outdoor coolers, and outdoor freezers can all be purchased to meet the specific needs of your business.
Water Filters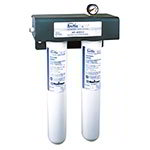 Water filters are essential for any area that has contaminated water. A water filtration system removes sediment, chlorine taste & odor, scale, and other pollutants from water to ensure clean, fresh tasting water. Water filters are also frequently used on types of equipment such as ice machines, coffee / tea brewers, fountain beverage dispensers, steamers, espresso machines, and water booster heaters. Clean, fresh water helps to increase food quality as well. Filters can be purchased with both the assembly & cartridge or the cartridge only.