Chafing Dish
Add a touch of elegance to your next event with attractive and stylish chafing dishes. Available in full size, half size or round shaped, these servers can come with or without standard or domed lids along with holding or display stands. Constructed of durable metals such as stainless steel or aluminum, with beautiful finishes and accents in brass, copper, silver, gold and more, we offer a wide range of styles to suit any occasion or event. Perfect for catering services, buffets, hotels, conference centers and much more, we have the pans, stands and covers to fit your serving needs.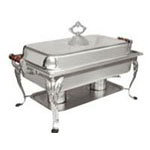 An essential item of any catering service, hotel, buffet, conference center or even cafeteria, full size chafing dishes are perfect for meat, vegetable and seafood entrées or side dishes. With capacities between eight to nine quarts, these containers are constructed of durable stainless and can have accents and finishes in a range of colors including chrome, copper, silver and gold. Available with standard lids, roll tops or domed covers, many include stands for display and for holding fuel cans to keep food heated and ready to serve.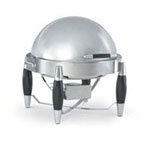 Elegant and functional, round chafing dishes are available in a variety of sizes and styles. While shallower pans are perfect for serving desserts and appetizers, deeper ones can be used for serving soup, gravy or stews. Urns are also available for beverages like coffee or tea. Constructed of economical aluminum, durable stainless steel or other materials, these servers are available in a wide range of styles with accents and finishes of chrome, copper, brass, gold and more. With capacities from 1-1/2 to 22 quarts, they are available with or without stands and can include roll-top, standard or domed covers to keep food warm, fresh and ready to serve.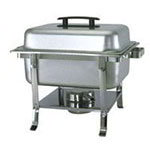 Perfect for smaller side dishes and appetizers, a half sized chafing dish is an essential item for any catering service, buffet, hotel, special occasion or event management company. Constructed of economical aluminum or durable stainless steel and available with accents and finishes in brass, silver, gold and chrome these pans can hold from three to six quarts of food. Available with roll tops, standard flat lids or dome covers, some offer glass inserts for visibility of the food. These serving pans can also come with or without a matching stand to hold the pan and the heat source.