Brooms & Dust Pans
Got a mess? No problem! KaTom is to the rescue with a fabulous selection of brooms and dust pans. KaTom carries brooms in several styles and sizes that are sure to get the job done! With several handle and bristle types you can be sure you'll find the broom you need with KaTom! The dust pans that KaTom sells are affordably priced so they won't break your establishment's budget. Choose the brooms you need to knock out that dirt with KaTom!
Cleaning the floors just got easier with KaTom's selection of efficient floor sweeps! KaTom sells a plethora of floor sweeps in several sizes to meet your establishment's sweeping needs. Need more than just a floor sweep? KaTom also carries broom handles for your floor sweeps in several lengths and materials. Choose from KaTom's durable wooden broom handles and fiberglass broom handles for the best fit for your floor sweeps today!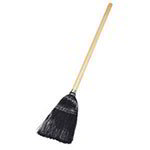 Dirt is a part of life but that doesn't mean it has to be hard to sweep up. KaTom Restaurant Supply carries brooms for just that reason! KaTom's brooms are durable, come in a plethora of different styles and types, and are affordably priced to sell! Choose from our lobby brooms, janitor brooms, floor brooms and more to find the perfect broom you need to get the job done. Order today with KaTom to experience the quality!
Escort your restaurant floor's dirt to the trash with quality dust pans from KaTom Restaurant Supply! KaTom sells several types of dust pans including dustpans with long handles for ease of use and jumbo dust pans for larger capacities. Need a dust pan that can handle a heavy duty environment? No problem, KaTom carries those as well. Choose from KaTom's competitively priced metal and plastic dust pans for the dust pans your restaurant or office space needs today!