Brooms & Dust Pans
Choose from our selection of brooms and dust pans here.
We sell floor sweeps in several sizes to meet your establishment's needs.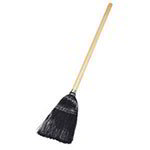 Choose from our lobby brooms, janitor brooms, floor brooms and more to find the perfect broom you need to get the job done.
We sell a dust pan for every need including those with long handles for ease of use and jumbo dust pans for larger jobs.