Bottle Type Dispenser
Bottle type dispensers are great for sauces, syrups, and condiments of all sorts. Use a bottle type dispenser to give easy access to your customers or simplify the way you add condiments to food in your restaurant's kitchen. A bottle type dispenser works for any pureed or emulsified sauce or topping as well syrup. Check out all your bottle type dispenser options available at KaTom Restaurant Supply.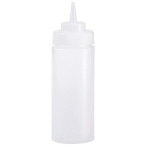 KaTom offers an immense multitude of squeeze dispensers. Featuring the best quality in squeeze dispensers, such as the sour cream, yellow mustard, and infamous red ketchup dispenser. The squeeze dispenser series also offers an array of radiant stainless steel dispenser holders for single and multiple squeeze dispensers. The squeeze dispenser series also offers a three unit topping warmer for creating divine ice cream sundaes.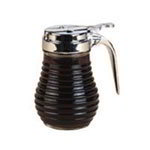 A pour dispenser is the cleanest and cost effective way to serve up all your syrups and sauces. Sort out your syrup or sauces in color coded pour dispensers so your customers can easily help themselves. We offer a variety of pour dispensers in different colors, shapes, and sizes to suit all needs. Find the right pour dispensers for your restaurant or business at KaTom Restaurant Supply now!