Bon Chef Bar Supplies
Replace your old bar supplies with the finest Bon Chef bar tools from KaTom Restaurant Supply! KaTom carries high quality Bon Chef bar tools like stands for champagne buckets to whole bars. You'll be happy to see that Bon Chef bar gear is affordably priced with your budget in mind. Choose the best Bon Chef bar gear for your restaurant or bar by shopping with KaTom today!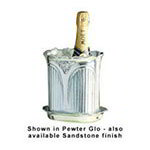 Make sure your guests have a way to keep their chardonnay or champagne cold with Bon Chef commercial wine supplies! These Bon Chef commercial wine supplies will keep your guests wine at the proper while also providing superior presentation! Bon Chef commercial wine supplies come in a variety of sizes and styles perfect for any restaurant! Get Bon Chef commercial wine supplies at KaTom Restaurant Supply!
Why choose a stationary model when you could have a Bon Chef portable bar in your establishment? Think about the possibilities of being able to move your Bon Chef portable bar into party areas or hidden away at your desire. KaTom Supply even carries Bon Chef transportable bar models with sinks, ice wells, or even dispensers! Choose the Bon Chef transportable bar you need today with your food service friends at KaTom.