Bar Matting
A full-service bar has many needs. From the drinkware to the many other tools that your bartender will use. While some items may seem less significant for success, they are still important. So don't forget your bar matting. KaTom Restaurant Supply has a nice selection of bar mats and bar liners. Look over our inventory and let us help you get your matting needs met.
Bar mats are available in silicone, vinyl and rubber and sometimes are dishwasher safe making for easy cleaning. Other bar mats have a textured surface that can snap together to create any size. There are endless uses for the bar mat such as draining glasses, softer preparation surface for the glasses to help prevent breakage and chipping and many other uses. At KaTom Restaurant Supply, we are confident you will find the bar mat that best works for you.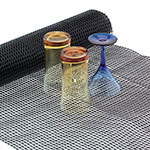 KaTom Restaurant Supply has the bar & shelf liners that allow thorough drainage, promoting rapid, fog-free drying which helps to prevent bacteria growth. Many of our liners are constructed of firm, resilient plastic that can be interlocking, are grease, food acid and detergent resistant while others are made with microban. There is no need to look anywhere else for bar & shelf liners. Our friendly customer service representatives at KaTom are standing by to assist you with your order.