Bar Matting
Don't forget bar matting—they prevent cold drinks from sweating on counters.
Bar mats are available in silicone, vinyl and rubber and sometimes are dishwasher safe making for easy cleaning. Other bar mats have a textured surface that…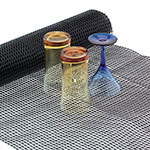 We have the bar and shelf liners that allow thorough drainage, promoting rapid, fog-free drying which helps to prevent bacteria growth.