Back Bar Storage
With the amount of variety people enjoy in their refreshment these days it would be hard not to have back bar storage. KaTom's selection of back bar storage includes models with glass fronts for easy viewing and selection as well as solid door styles that keep your drinks just as cold. Store your bottled beers and liquors at chilly drink ready temperatures by buying with a large or small capacity back bar storage unit from KaTom Restaurant Supply!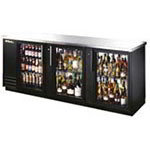 Make the often difficult time of finding the right types of liquors and beverages easy by adding back bar storage with glass doors to your establishment. Being able to see through the front and view the icy cold products saves time otherwise spent searching. Our back bar storage with glass doors are not only temperature efficient but very aesthetically pleasing. Order your back bar storage with glass doors today with KaTom and save!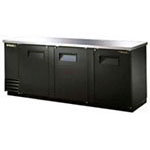 Keep bottles of liquor and other beverages cold by installing a solid back bar refrigerator in your bar area. By using a solid back bar refrigerator your bartenders will easily be able to access beverages and thus save time on drink preparation. KaTom's selection of solid back bar refrigeration is attractive to the customer eye and are very temperature efficient. Choose the solid back bar refrigeration your bar needs with KaTom, your top shop for refrigeration!