AAF Tables
All About Furniture offers a variety of durable, high quality table tops and bases. Whether you're looking for round or square table tops, AAF accommodates your business's needs with a variety of durable table tops in a selection of wood and vinyl finishes. From renewable bamboo that is resistant to bacteria, to laminate table tops in a variety of color and stain options, you're sure to find an AAF tables from KaTom's selection that suits your business's decor and size requirements.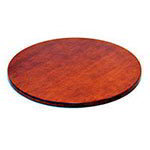 All About Furniture table tops come in a variety of materials and finishes. These tables come in a variety of easy-to-clean melamine, laminate and solid wood surfaces, and some come with a smooth rubber edge for your diners' comfort. The melamine models have two different colors of laminate—walnut or mahogany on one side and oak or black on the other. The eco-friendly bamboo table tops are made of renewable bamboo with four different finishes.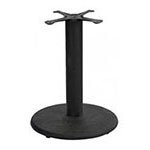 KaTom has a variety of sturdy AAF cast iron table bases available—rounds for pedestal tables, cantilever models for mounting on walls between booths, and bases that are supported with two or four feet. These table bases are designed to coordinate with their All About Furniture table tops, and they all have high-quality plastic glides and a powder-coated finish for a long life outdoors.