AAF Restaurant Booth
Booth furniture is a popular seating choice of many restaurant guests, so why not choose restaurant booths constructed from high quality materials that are built to last? AAF offers a variety of comfortable dining booths in a number of upholstery color choices, with sizes that meet your restaurant's seating arrangement. Browse KaTom's selection of AAF restaurant booths to choose dining booths that range from single to three quarter size, in a color choice that completes your restaurant's decor.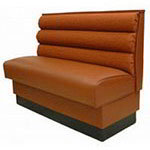 All AAF single booths have a hardwood frame for durability and are upholstered for comfort. The upholstry of All About Furniture booths varies in design, from tufted button backs to colored vinyl, and other stain and color options are available on selected models at an additional cost. Finished ends and outside back mean that these single booths are not limited to placement against a wall. A kickbase on the bottom of some AAF single booths reduces damage and scratches caused during use.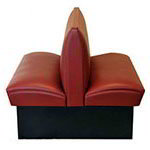 AAF double booths include finished ends - there is no exposed wood so you can place them in the center of the dining area. A heavy-duty hardwood frame inside the double booth ensures maximal weight support and durability. They include upholstered vinyl seats with backrests or seat cushions with hardwood backs, and the color and stain can be changed on request to match existing decor (an upcharge may apply). Designs vary from button tufting to horizontal channel backs.