AAF Patio Furniture
AAF offers high quality patio furniture that's suitable for commercial or residential use. From round patio tables with sleek, stainless steel tops to wrought iron tables built to withstand inclement weather, AAF has patio furniture that's durable and stylish. chairs, and umbrellas, come in a variety of designs to choose from and are crafted from durable materials built to withstand environmental change.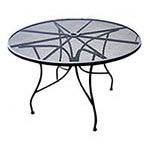 AAF Patio tables are handsome, durable, and a great solution for your patio or outdoor dining area. These high-quality All About Furniture tables are available in powder-coated steel mesh as well as trendy textured aluminum. Several models have a center hole for a patio umbrella so you can add an umbrella and your guests can dine comfortably, sheltered from the sun. Weather-resistant and stylish, these tables are easy to clean and maintain.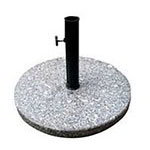 These AAF Patio umbrellas and bases are weatherproof and come in blue, tan and green. The seven foot model comes with a pin to keep the umbrella in place, and the nine foot model has a hand crank that enables you to unfold the umbrella quickly and easily. Help your guests relax and enjoy dining outdoors while being shielded from the harsh rays of the sun. The coordinating All About Furniture umbrella bases are each made of a solid piece of granite with a powder-coated steel insert that holds the umbrellas securely in place.