AAF Barstools & Bases
Barstools and bases are suitable for bars, kitchens, or anywhere that requires elevated seating. Made from durable materials such as chrome and vinyl, bar stools and their bases shield dirt and resist stains, while maintaining aesthetic appeal. Bar seating is both comfortable and practical for areas with high-top counters, and they include a footrest bar. They are available in a range of color and stain options.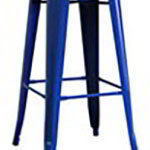 AAF barstools are constructed from hardwearing materials including stainless steel, chrome, and vinyl. They are designed to be used with high-top counters, but can be used in any environment where high seating is preferred. Bar stools from AAF can be selected with or without back support and include a foot rest for extra comfort. With a range of colors and finishes, AAF barstools can be made to suit existing decor, and wear-resistant materials make them stain and dirt resistant.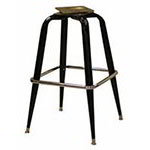 These Barstool Bases from All About Furniture can be customized with a variety of finishes and colors to match your current décor. AAF's bases are durable to resist damage from warping or cracking and they are designed for full 360 degree rotation. Bar stool bases include a foot rest for additional comfort and have stoppers on the feet to top the legs scratching the floor.