BUNN-O-Matic Residential 40600.0100 Customer Reviews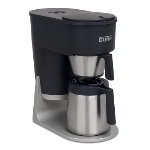 BUNN-O-Matic Residential (40600.0100)
Product Code: 533-406000100

$179.99

I exchanged glass for ssteel pot more money but Ilost coffee temp.its still a great machine
Very easy to use no frills coffee-maker. Have owned Bunn before. This new thermal pot keeps coffee hot much longer than previous models. Set aside a more expensive two month old coffee-maker and bought this new Bunn. Even though there is no timer, coffee is quick to run through so that is not a problem. Best one yet. Earlier Bunn made 2 - 4 pots a day and lasted for 5 years.
I love Bun coffee pots! My last one lasted four years and it sprung a leak. I am very happy with the new one I purchased. Very sleek and nice looking. Nothing like a fresh pot of coffee in three minutes!!!
After many hours of searching and reading reviews and ordering another brewer, I chose the Bunn and am very satisfied with the quality and heat of the coffee brewed. As mentioned the machine is quite large, but a more than acceptable trade-off. My only real complaint is that the thermal carafe only maintains the coffee at an acceptable temperature for 2 or 3 hours so that you either need to decant the coffee into another insulated carafe or make small amounts that you can consume within the 2 to 3 hour timeframe. Apart from wishing for a better insulated thermal carafe, I wouldn't hesitate to recommend this coffeemaker or the seller. Very satisfied overall with this online shopping experience and would use this seller again should they stock something I need.
Use it every day. Love the way it makes my coffee so fast. Very satisfied..
We have always used BUNN coffee makers ... I wanted to try this one because of no hot plate... Preventing scorched coffee. We love it! I found if you fill the carafe with hot water and let it sit just long enough to prepare your coffee in the filter and prepare your water, the coffee stays hot for hours... I have even gone back 6 or more hours and the coffee was still hot!
Great pot, brews in 3 minutes for a full pot. Keeps coffee hot without a burner eye. I just recommend warming carafe before brewing.