BUNN-O-Matic Residential 38400.0000 Customer Reviews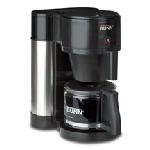 BUNN-O-Matic Residential (38400.0000)
Product Code: 533-384000000

$99.99

The coffee pot heating plate doesn't hold the pot securly and is not flat, making the pot unstable.
QUIT WORKING AFTER 3 YEARS. MY SISTER HAD ONE FOR 10 YEARS STILL HAS IT.
Had one of these before and it still worked but water did not heat to a high enough temp. Am buying another after using a cheaper one for 1 year. Takes very little time to brew and coffee is good.
I thought after paying TOP PRICE FOR A COFFEE MAKER IT SHOUD LAST 10 YEARS. The reason I bought the Bunn is because the last one I bought lasted 17 years.