BUNN-O-Matic Residential 38200.0016 Customer Reviews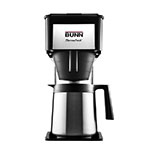 BUNN-O-Matic Residential (38200.0016)
Product Code: 533-382000016

$159.99
We bought ours 5 years ago. Haven't had a minute's problem with it. I brag about my coffeemaker all the time! It makes coffee in 3 minutes! If there's one any faster I would buy it but I'm hoping mine lasts a long time...
We bought this 2 yrs ago and yesterday it just stopped heating the water. WE make several pots a day. Up until yesterday we have been very pleased with it. I was curios if this maker has a warranty or replacement parts. I have had cheap ones that lasted for close to 10 yrs.
I've owned several Bunn models over 30 years, as have my parents and siblings. We've had a few issues that we've called the company about and have had great results from them with no problems. Some of the problems that we've had have been mentioned here. Coffee grounds rose over the filter into our coffee. Problem was that we were using a too fine of a ground, or we were using the wrong spray head. Whatever the problem, Bunn sent us a new spray head and we had the luxury of being able to switch out the spray head by simply unscrewing it and changing it out depending on what type of coffee we chose to drink. No problem. The other issue was the filter. We liked paper, between the grounds and spray head issue, we needed to use the screened. Plus, the screen is better for you. Ask Dr. Oz. :) Thirdly, we had a heating element not work. Called up the company and they sent us out a new machine lickety-split. NO PROBLEM. Give the company a chance. They are terrific. And no, I don't sell Bunn or work for them. I just love their products. I'm going to buy another one from this company this morning.
It is a great coffeemaker BUT it is NOT dishwasher safe as the description implies. It does slow down to more than 3 minutes per pot quickly but is still faster than the other coffeemaker models. If you don't have tall filters, you drink grounds OR it does make a huge mess!
Coffee is not hot enough and gets even colder in a hurry(this is after going to the trouble of pre-heating the themos)I would not recomend this product.
Coffee is good and brews quickly. However, the shower head sprays water with too much force over the grounds making it a mess to clean; and, it often overflows thereby getting grounds and water all over my table. Also, it requires a special filter with higher sides which is not easy to find.
this is one of the best coffee brewers on the market. I have come to the realization(IF YOU TAKE CARE OF YOUR COFFEEMAKER: IT WILL TAKE CARE OF YOU). Cons.it does not wash the dishes, but neither does THE Wife.
I just wish I had bought this product sooner. I am using my BUNN coffee maker everyday and I am enjoying it so much. You will really taste the difference between the BUNN product and the coffee maker you have now. I highly recommend the BUNN coffee makers.
It's not like any coffee machine I have had before. There is no extra accessories, it doesn't even have a light. It doesn't need a timer as it only takes three minutes for a pot of coffee. It's so hot, it must be the hottest coffee I ever made at home.